Youth Summit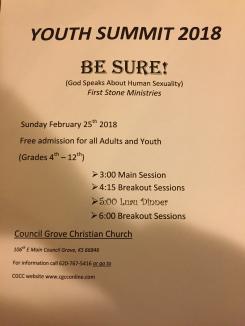 We are already preparing for the 2018 Youth Summit. The theme for dinner will be a luau. If you would like to help with this awesome youth experience contact Tracy Waring for the dinner preparations or Marcia Messer for the siminar and worship portions of the event. Thank you for your support in preparing our youth to live a Godly life.

There will be NO meeting in December. However, if you are interested in helping get things ready please contact Marcia Messer or Tracy Waring.

The dates for the Youth Summit are: February 24 and 25th.

Here is a list of items that Tracy is trying to gather for different projects for the luau dinner portion of the evening:

brown paper lunch bags
old pillows - Polyfilled
cheap table cloths - different shades of blue and a few white 10-12
umbrellas - lots (you will not get them back)
Hawaiian shirts of all sizes
drum/singing music with a Hawaiian tone

If you have any of these items to donate please see Tracy Waring.