Special Events
Women's Christmas Tea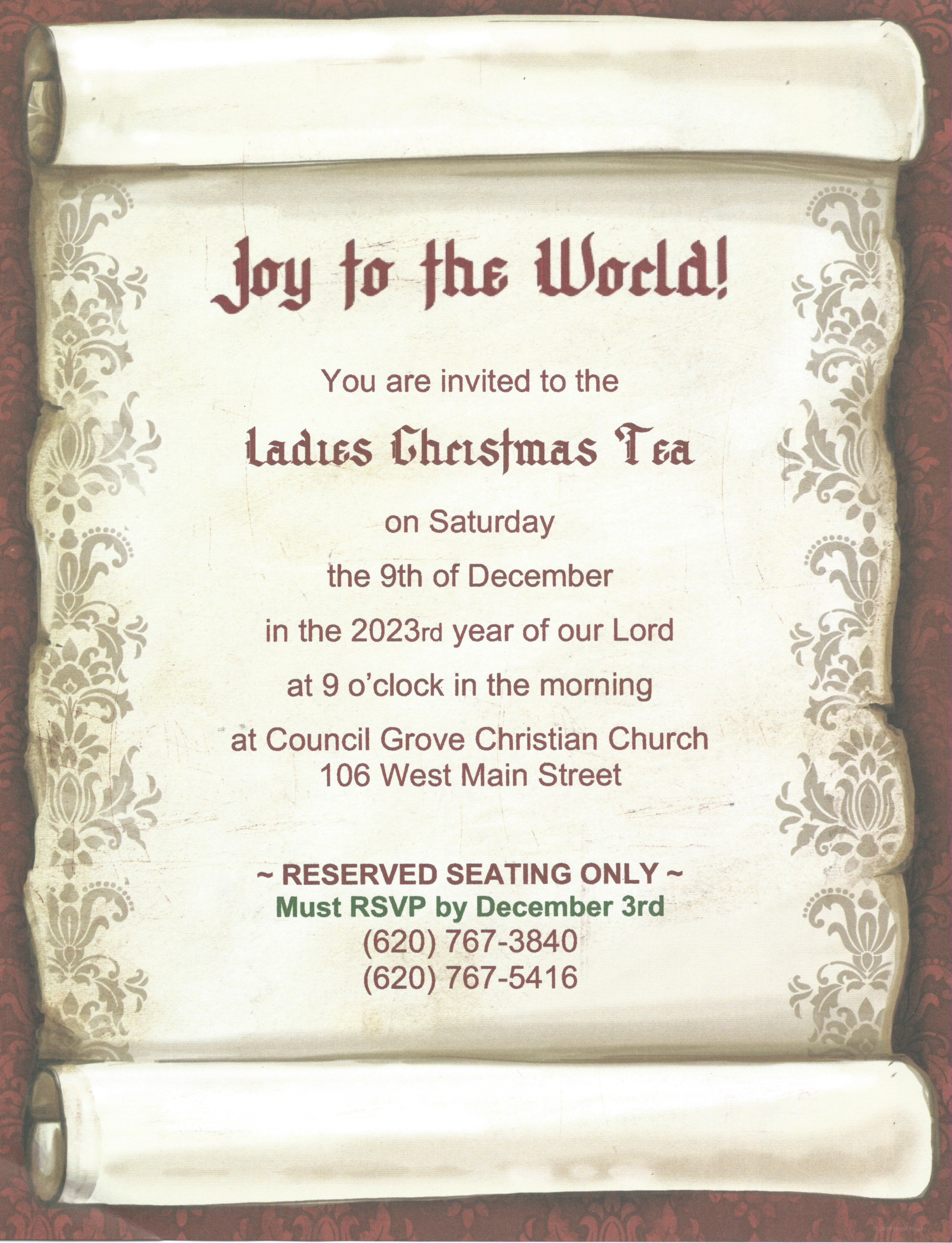 Sunday School Nursery
There is a sign-up sheet in the lobby where you can volunteer to take care of our little ones in the nursery so their parents can attend an adult Sunday School class. Please add your name to the sheet to enable parents to fully engage in the class without the distraction of a small child.
Save the Dates:
November 12 - Operation Christmas Child lunch and "Packing Party"
November 25 - Messer's 50th Anniversary celebration - please help their children with planning by signing up if you plan to attend.
December 3 - Hanging of the Greens
December 9 - Ladies' Christmas Tea
Will You Volunteer?
A church could not function without volunteers. The majority of volunteer opportunities require very little time and no special talent - just a willingness to serve. Currently, there are sign-up sheets for:
Volunteers to read Scripture (you get the reference during the week).
Provide nursery care during Sunday School (see earlier post)
Help with communion - the cups are filled before Sunday School. After service, any unused cups are dumped, and the empty cups are thrown away. Neither of these take very much time! Someone would be willing to help you get started if you want.
Please consider serving in some capacity!

Ladies' Coffee
Our next Ladies' Coffee will be at 10 am on Sar, Nov 11th. Get a cup of Watts' Coffee - or bring a cup from home - and enjoy time visiting with your CGCC sisters.

Moms Of Littles
The next Moms of Littles meeting is scheduled for Friday, Dec 22 at 9am. If you are willing to come and spend time with the "littles" please talk to Leigh. She always has some activity planned for them. but your help would be very much appreciated!
Prayer Time
Prayer is always important, but right now our nation is in the midst of unprecedented times. We will gather at 6:30 PM on Tuesday, Oct 30, to pray for our leaders, our country, revival in our nation and other important issues. Please invite your friends and neighbors to come with you and join us in prayer!

Our Mission Partners: Faith Days Alive
Imalee Johnson served in ministry with her husband for a number of years. He died several years ago, and she is now in an assisted living facility. Even so, she continues to serve as a prayer warrior. Pray for Imalee as she continues in her service to the Lord.